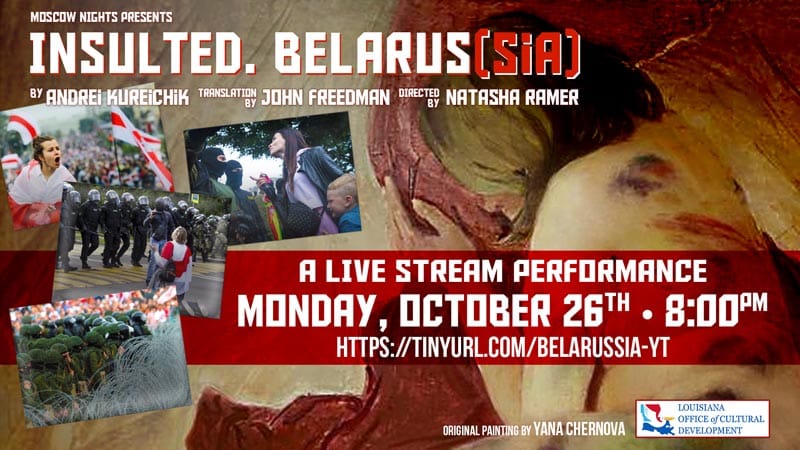 Contemporary Play Provides Raw Look at Revolution Underway
New Orleans, LA (October 13, 2020)…A country embroiled in charges of voter fraud. An authoritarian president refusing to accept election results and declaring the coronavirus pandemic to be a hoax. Thousands of citizens protesting for democracy. Military police brutally attacking peaceful protestors.
Sound familiar? That is the current political climate in Belarus and the plot of "Insulted. Belarus(sia)," written by contemporary Belarusian playwright Andrei Kureichik, who started writing on August 19 while in hiding. He is now in exile from his homeland. John Freedman, also a playwright and a theater critic, provided the English translation.
More than 60 theater groups in 16 countries are presenting live readings of the fact- based drama in solidarity with theaters in Belarus that Pres. Alexander Lukashenko considers to be enemies of the state. Since the August 9 election, hundreds of thousands of all ages have protested against Lukashenko's 26-year regime for alleged election fraud. Opposition candidate Svetlana Tikhanovskaya claims to have won an estimated 70 percent of the vote. She is now in exile.
Moscow Nights, a New Orleans-based arts organization that promotes appreciation and understanding of Russian and Eastern European Culture, presents a free online reading of Kureichik's play at 8 p.m. on October 26.
"This play tells the story of the first month of the Belarusian revolution," says Natasha O. Ramer, founder and artistic director of Moscow Nights. "It is so important for our audiences, particularly in Louisiana, to be aware of the revolt for political reform that is occurring right now."
Told through the perspectives of seven different characters, all based on actual people, the play ranges in emotion from humor and youthful naiveté to tragic grief. Since the start of protests that began more than two months ago, the United Nations has cited hundreds of human rights violations including illegal arrests, torture, rape and murder.
"This revolution is a revolution of people who want their freedom," explains Kuriechik. "I am proud of people who are very far from Belarus and who are doing these readings in such a strong manner to tell the world what is happening."
Ramer will direct the actors remotely as they are based in New Orleans, Texas and Arkansas. The livestream event begins at 8 p.m. on October 26 at https://www.youtube.com/user/musiclovers169 or https://www.facebook.com/ Theatrecriticismcom-252647605344604.
For more information about Moscow Nights see https://moscownights.org
Media contact:
Cynthia Maddox, 251.209.2048 cynmaddox@gmail.com
---
Special thanks for usage of the original artwork "Belarusian Venus" by artist Yana Chernova https://www.instagram.com/chernova.ya/