Our Goal for 2021's GiveNOLA Day is to raise $5,000
to Support our Exciting New Theatrical Project
Moscow Nights Presents
Anna Akhmatova
Sketches from a Poet's Life
Our future project consists of two parts.  Our Artistic Director Natasha O. Ramer will create a theatrical presentation of Anna Akhmatova's life and poetry here with the first part titled, "Anna Akhmatova: Sketches From A Poet's Life (Part One | 1889 – 1921)".
Anna Akhmatova (1889-1966) was a Russian poet who lived a remarkable life that stretched from the late Imperial period of Russian history through the Russian Revolution of 1917, the Civil War and Stalin's regime.
Once again, this year Moscow Nights will be participating in the annual GiveNOLA 2021 event here in New Orleans!
On Tuesday, May 4th, thousands of residents in the Greater New Orleans area and friends elsewhere are going to show their support for their favorite non-profit organizations during GiveNOLA Day, hosted by the Greater New Orleans Foundation.
For the previous four years of GiveNOLA, you have helped us meet our set goals.  And we hope this year will be no different.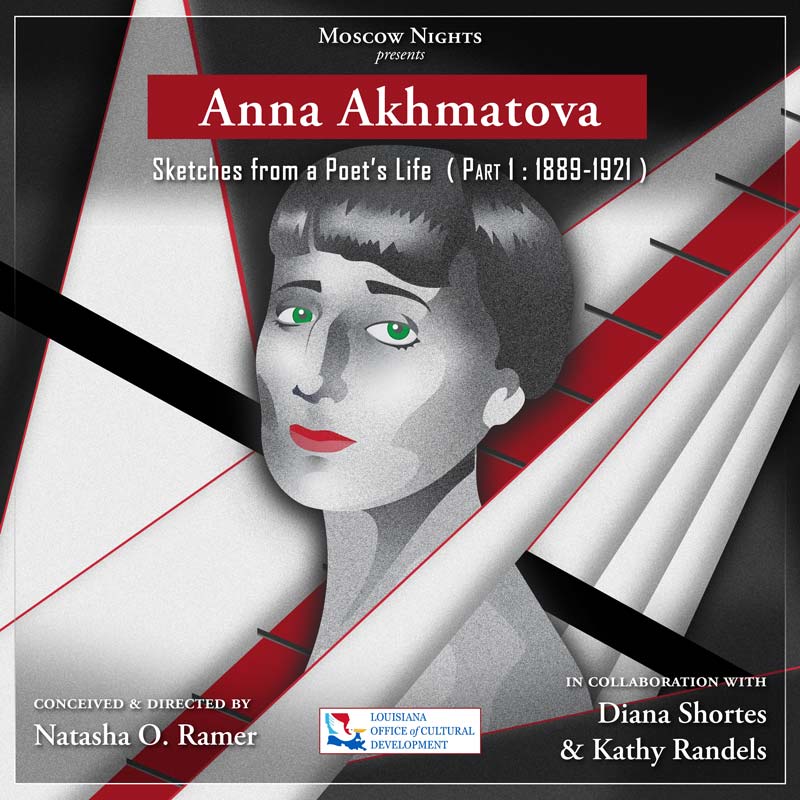 Please Consider Supporting Us During GiveNOLA 2021
Make a tax-deductible donation from $25.00 and above.
Please consider supporting us during GiveNOLA Day on Tueday, May 4th 2021 by making a tax-deductible donation starting at just $25.
Show your support for continuing sharing Russian and Eastern European Culture in New Orleans and creating new art inspired by its rich, established history.
Mark Tuesday, May 4th as GiveNOLA Day on your calendar and support Moscow Nights Inc.!

 

Help us spread the word! Use the sharing buttons on the bottom of this page or tell your friends about GiveNOLA Day by directing them to https://www.givenola.org/00-moscow-nights-inc,

 

sharing with them that you have participated and why they should consider doing so.

 

If you cannot contribute on GiveNOLA Day 2021, please feel free to donate to us at your convenience on our website at:  http://moscownights.org/donate/
We want to thank you in advance for any contribution that you can make.
Your generosity will make a huge difference on Tuesday, May 4th.