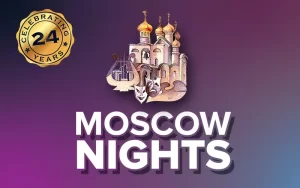 Moscow Nights is happy to return to the GiveNOLA campaign in 2023.
Generous giving during GiveNOLA 2022 helped Moscow Nights develop Ukrainian multimedia theatre production connecting us globally through cultural and humanity bonds.  This production took place at Tulane University's Lupin Theatre on the 26th of November 2022.  Simultaneously, we filmed the production that affords us an opportunity to create a "theater on film" genre movie.
To create a post-production film, we collaborate with Anthony Sandoval, a Theatre Director and film maker with experience working globally.  He won multiple awards for his directing, including "Garland" and "LA Weekly" Awards.  His films are invited to various International Film Festivals and received many awards.  To know more about Anthony Sandoval, visit his website at: www.itlcreative.com/bios
For more than one year, Ukraine continues fighting a cruel and merciless war with Putin's Russia. Ukraine itself is on fire: cities have been destroyed, and many from the civilian population have been killed. Among the victims are many women, children, and members of the elderly population. An enormous number of people are refugees.
Ukraine is burning, and so are our hearts.  Our preliminary trailer for the upcoming release of the film can be found at: https://vimeo.com/808053421
Your donations will support our completing our post-production editing work that will go to a global release of our "theater on film" genre movie.
Thank you for continuing to support of Moscow Nights!