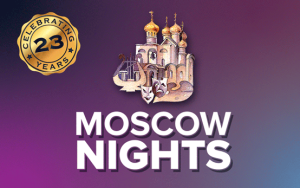 Moscow Nights is happy to return to the GiveNOLA campaign in 2022.
We are immensely grateful for the generosity of our donors in 2021, which provided critically needed funds that made it possible for us to complete the film production of our dress rehearsals of "Anna Akhmatova: Sketches from a Poet's Life" at Esplanade Studios. We now have the raw materials essential for the final editing of our film.
For more than 50 days Ukraine has been fighting a cruel and merciless war with Putin's Russia. Ukraine itself is on fire: cities have been destroyed, and many from the civilian population have been killed. Among the victims are many women, children, and members of the elderly population. And an enormous number of people have become refugees. Ukraine is burning, and so are our hearts. It was in this context that Oleksandra Basko's diary unexpectedly turned up in my hands. She writes in an honest and moving language.
Artistic Director Natasha Ramer decided that her written diary could become an effective play online. We can help this young woman with three children living near Vinnytsia, in this city near where I (Natasha) spent my early childhood.  New Orleans' professional film and theater actress Erin Cessna will perform the role of "Sasha" (Oleksandra) in our play.
Generous giving during GiveNOLA 2022 will help Moscow Nights continue to develop Ukrainian multimedia theatre productions connecting us globally through cultural and humanity bonds.
Thank you for the continued support of Moscow Nights!